Grand Rapids Home Broker
GRI Designation

Why Choose a Realtor® With a GRI designation?

The Graduate REALTORS® Institute (GRI) designation indicates the REALTOR® has made the commitment to provide a high level of professional services to their clients by securing a strong educational foundation.

Buying property is a complex and stressful task. In fact, it's often the biggest investment people make in their lifetime. And real estate transactions have become more complex.

New technology, laws, procedures and the increasing sophistication of buyers and sellers require real estate practitioners to perform at an ever-increasing level of professionalism.

So it's more important than ever that you work with an agent who has a keen understanding of the real estate business. The GRI program has helped the best and the brightest in the industry achieve that level of understanding.

GRIs are:
Nationally recognized as top performers in the real estate industry

Professionally trained

Knowledgeable

Dedicated to bringing you quality service
A GRI can make a difference

When you see the letters "GRI" after an agent's name, you can count on receiving the knowledge and guidance you need to make your transaction go smoothly. In short, you can count on getting the best service available from a real estate professional.
Don't you deserve the best?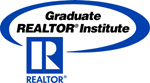 GRI...


The Professional Edge




Category: Grand Rapids Real Estate: Graduate Realtor Institute: Robert Young
Ó 2002-2010 Vantage Point Real Estate, LLC. All Rights Reserved.
This website, including but not limited to: text, layout, and design is copyrighted
and not to be copied or reproduced without the expressed permission of Robert Young.
Violators will be prosecuted to the full extent of the law.
Disclaimer